The history of the "KAMINIARZ" brand was started by the grandfather of the current owners, Stefan Kaminiarz.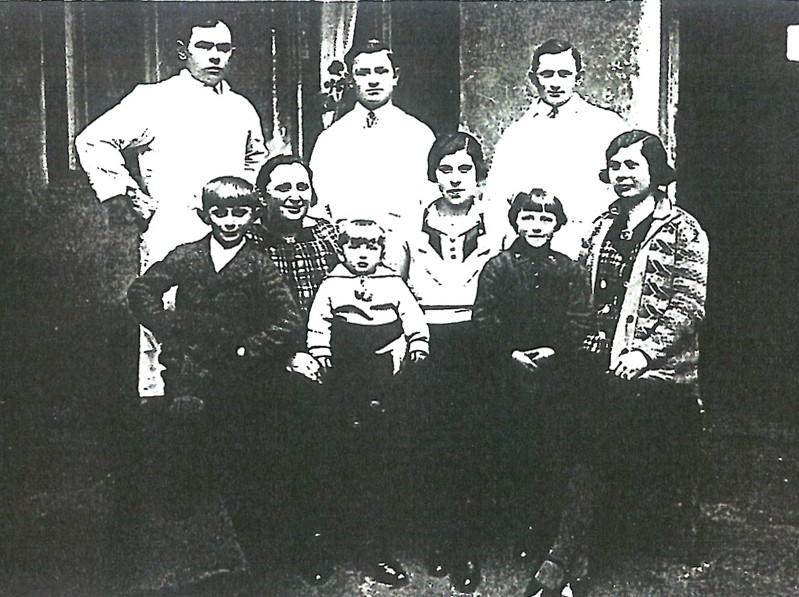 Stefan Kaminiarz was born 2 September 1891 in Krzemieniewo nearby Leszno. He received master papers in 1926 and joined the butcher's guild in Leszno. The guild that obtained guild privileges in 1628, then played an important role for local slaughter men. It integrated butchers, took care of the quality of production standards, educated journeymen, and organized help. Slaughter was a thriving sector, and a slaughter man was a widely respected job.
Stefan Kaminiarz started production of meat and cold cuts in a tenement house, bought thanks to the family's help, located at the New Market Square. It also housed a store where his wife, Bogumiła Kaminiarz, sold the products.
In their small manufacture they ran a pork and beef meat processing plant. Stefan Kaminiarz bought livestock in person and had his regular suppliers, local breeders who knew his high requirements. Slaughter was made at the Town Slaughterhouse in Leszno, which commonly provided these services to members of the guild.
The store at the New Market Square was opened three times a week. It can be said that the Kaminiarz's already had modern marketing at that time. They knew all customers in person, and the production was entirely customized. Cold cuts were produced taking into account particular expectations of specific customers. No wonder that the popularity of their butchery grew quickly. Naturally smoked products were especially appreciated. To this day, the family tells a legend of salami dried in a nearby bakery, and then matured for three years.
Stefan Kaminiarz also showed entrepreneurship. He employed more journeymen, distinguishing himself from other butchers, who usually ran their own family processing plants by themselves. In 1939, he planned to purchase another tenement house with a butchery and a store at ul. Lipowa, however the outbreak of war disturbed these plans.
World War II, post-war period, nationalization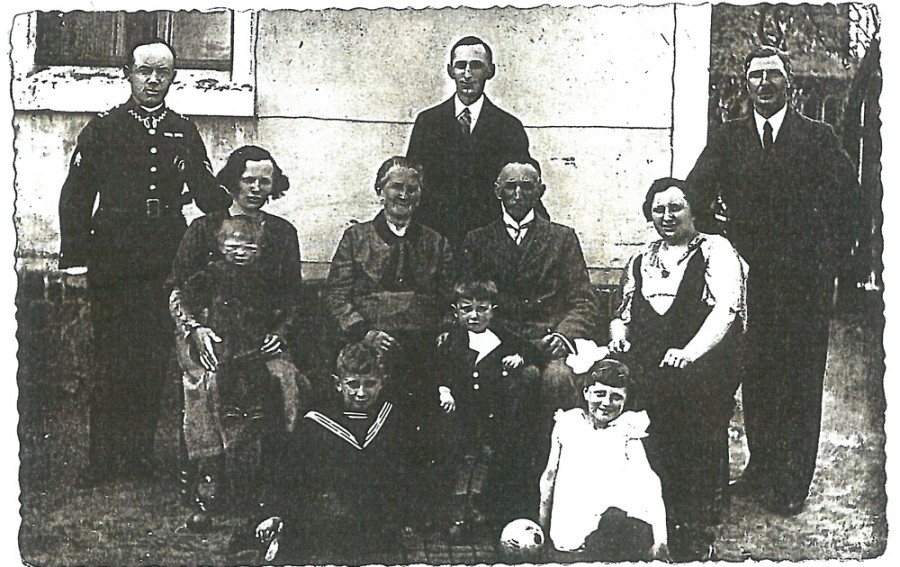 Stefan Kaminiarz joined the "Poznań Army" under the command of major general Tadeusz Kutrzeba and with some of the troops he set off to join the Anders Army. From the last information that the family received from the Red Cross, it appears that he had gone missing in the then Soviet Union and today's Ukraine. Many years of searching did not bring effects.
After regaining independence, in 1945-1947 Bogumiła Kaminiarz, with the help of her sons and members of the local Butcher's Guild, tried to restore the plant's production to the pre-war level. These efforts were interrupted by legal acts nationalizing private enterprises. The family never accepted it.
One of the three sons of Stefan Kaminiarz was Tadeusz (born in 1931) who passed a journeyman exam for a butcher in 19.... In 1955 Tadeusz Kaminiarz started working as a salesman in a butcher store, which only recently, like the tenement house in which it was located, belonged to his family. He worked there for 34 years, until 1989, for the last ten years as its manager. It was in this tenement house where Grzegorz and Dariusz Kaminiarz, current owners and managers of the plant, grew up.
The period of the polish transformation system in 1988/89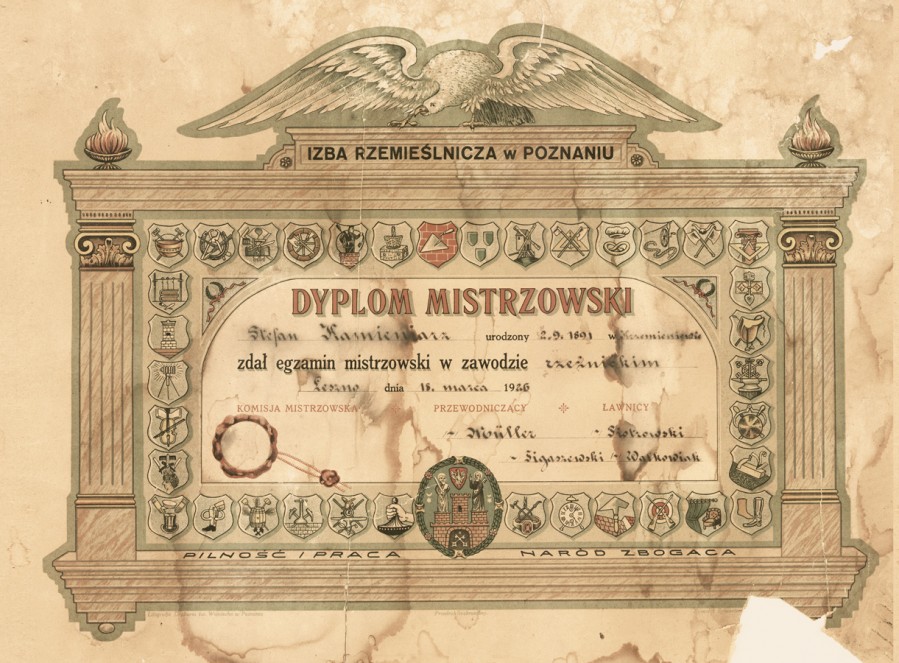 In 1988 Tadeusz Kaminiarz began his efforts to regain the tenement house with the store and production rooms. To overcome administrative obstacles, he had to quit his job and continue his efforts as an unemployed person. In the spring of 1989, they were successful and the store with a tenement house were returned to their former owners.
The period of transformation in Poland and the entrepreneurial spirit made the decision to run a private enterprise obvious. Only the direction was not obvious. Tadeusz Kaminiarz himself wanted to abandon slaughter, but the family decision was made to continue the tradition. An experienced team of professionals was hired, including, among others, the first slaughter man, Florek Fąferek, who still works in the plant. The store was opened in October 1989.
"I remember long queues in front of our store" - recalls Dariusz Kaminiarz - "The population of Leszno and the surrounding area stood in front of it early in the morning, long before its opening. Missing real cold cuts, people bought them still warm, not cold yet - he adds".
"The quality of cold cuts was taken care of by the father who personally selected and roughly added spices and salt - recalls Grzegorz Kaminiarz - He tried raw meat straight from the machine and only when he estimated that it was good, allowed production. To this day I meet people who remember the taste of those cold cuts - he adds"
Investments and specialization
The 1990s are full of investments in production. The pre-war smokehouse was gradually equipped with new equipment. The post-transformation reality was difficult, there were no machines or professionals. Most production solutions used at that time at the plant were proprietary ideas. It was also owing to traveling around the world, watching recognized manufacturers, searching for and adapting innovative solutions in the field of production and management..
Sales conducted in 6 stores were developing so dynamically that already in 1994 it was decided to build a new plant. In 1996 sales were started in the first wholesale warehouse in Głogów, and in subsequent years the distribution covered the whole country. In 2000, a unique in the meat industry, decision on the specialization of the plant in the production of bacon was made. That year, cooperation with the first foreign partner from Sweden began. This opened the Scandinavian market for the brand, where it is present until today, supplying the HoReCa sector with bacon.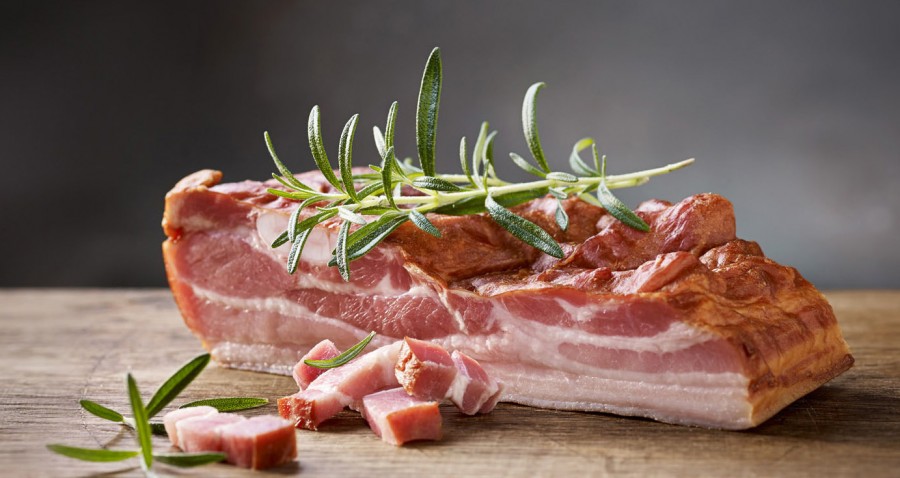 The plant in Święciechowa has always been distinguished by a high technological level. The plant equipment covers individual production solutions that are not to be found in other processing plants. The "KAMINIARZ" brand was a pioneer by introducing smoked cut bacon, bacon slices and recently bacon roasted in a hot air stream which is unique on a European scale.
It is the production of bacon, which today constitutes over 90% of all production, builds the reputation and recognition of the brand. The offer of the plant includes smoked, steamed, matured, raw, roasted, bacon for grilling, in various options (piece, cut into strips, slices) and packaging. Bacon from Święciechowa can be found on consumer tables throughout Europe, and more often also beyond its borders. Its recipients are industrial plants that produce ready-made dishes with the addition of bacon, distributors in the HoReCa sector, as well as leading European sales chains for which production is conducted under own brands.
The bacon offer is complemented by selected products such as hams, tenderloins. This is a reference to the butcher family sentiments.
"I like bacon"!
In 2016, on the brand 90th anniversary, a campaign was launched promoting bacon as a universal supplement. Its aim is to inspire professionals and amateurs as well as to remind that bacon has always been present in Polish culinary tradition! It is a natural, meat seasoning.
And therefore we have created "I like bacon" website with tens of recipes for bacon dishes! We promote bacon also on popular social media such as Facebook and Instagram. Since we are convinced that with bacon... dishes finally taste good.
Enjoy the meal!